Climbing set SS505KW - brown
Product code: SS-505KW-10
Swedish ladder, climbing net, Ball toss, Fitness rack, Rope ladder. More information
Ask
Choose the color option
Technical specifications
| | |
| --- | --- |
| Product code: | SS-505KW-10 |
| Recommended age: | 2-10 years |
| Free fall height: | 1 m |
| Load capacity: | 270 kg |
| Maximum number of users: | 5 |
| Measurements: | 4.38 x 0.99 x 0.96 m |
| Required area for assembly: | 7.4 x 4 m |
| Fall damping surface: | Grass surface |
The support structure of the climbing set is made of structural steel (metal profile 100 × 100 mm) which is protected against corrosion by zinc coating, resulting in a very prolonged service life of the workout elements, and coating with baked paint KOMAXIT according to the RAL colour system. All other metallic elements are also zinc coated and treated with baked paint KOMAXIT according to the RAL colour system.
The climbing net and the rope ladder are made using HERKULES material (16 mm thick ropes made from polypropylene with a steel internal core) and they are connected with plastic joints. The Ball toss is made of high-quality HDPE (high-pressure, full-color polyethylene, which is characterized by high color stability, resistance to scratching, UV resistance and especially safety because it is brittle and there is no risk of injury to children by sharp debris). All fasteners are galvanized or stainless steel.
No comments or questions Climbing set SS505KW - brown regarding this product. Do not hesitate to ask.
Similar products
Product - SS-313K-10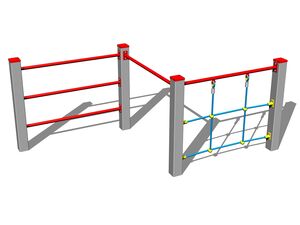 Request price
Fitness rack, Swedish ladder, Climbing net.
Product - SS-606K-10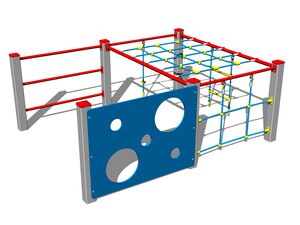 Request price
Climbing net, rope ladder, climbing rope, net, swedish ladder, ball toss.