Sandpit with a movable cover 3x3 m PK330KS - silver
Product code: PK-330KS-10
Sandbox with sliding cover with dimensions of 3 x3 m. Without sand and without seats. Seats available separately - here . More information
Ask
Choose the color option
Technical specifications
| | |
| --- | --- |
| Product code: | PK-330KS-10 |
| Weight: | 245.24 kg |
| Recommended age: | 0+ years |
| Free fall height: | 0,48 m |
| Measurements: | 6.4 x 3.1 x 0.48 m |
| Required area for assembly: | 7 x 6 m |
| Fall damping surface: | Grass surface |
The sandbox is made of glued prisms. This solution provides maximum protection against cracks that are common in off-wood wood products. The surface treatment of these prisms consists in the impregnation and three-layer application of the top glazing varnish, which meets the requirements of EN 71/3 (safe for children's toys).
These structures are anchored to the ground in steel feet, which are protected against corrosion by hot-dip galvanizing in a concrete bed. The anchors are attached to the gaming element by means of screws and their construction ensures that the timber elements are not in direct contact with the ground. All other metal elements are treated with powder-baked paint KOMAXIT according to the RAL color or are equipped with hot-dip galvanizing.
The sliding cover of the sandbox is made of waterproof plywood designed for outdoor use. All fasteners are galvanized or stainless steel.
No comments or questions Sandpit with a movable cover 3x3 m PK330KS - silver regarding this product. Do not hesitate to ask.
Similar products
Product - PK-220D-10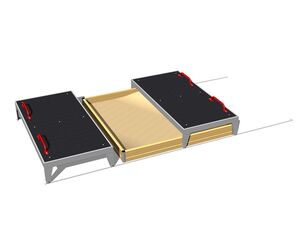 Request price
Product - PK-220K-10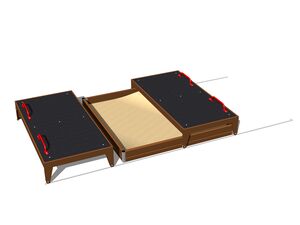 Request price
Sandbox with sliding cover - with dimensions 2 x 2 m, all metal. No sand and no cushions. Seats available separately -
here
. Two color options are available - brown and silver.
Product - PK-330D-10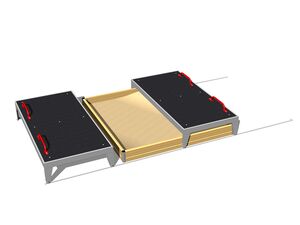 Request price